Santa Fe offers so many ways to explore the unique historic, cultural, and natural history of the city and its surrounding areas. The lively and vibrant Southwest is always on display throughout town, especially in the beautiful Santa Fe Botanical Garden. The grounds of this 20-acre complex near Museum Hill contains a diverse array of Northern New Mexico's flora, agriculture, and art that makes for a fantastic afternoon of outdoor fun. 
For more ways to make the most of your time in the City Different, be sure to request access to our complimentary Vacation Guide! 
Your Guide 
to
t
he
 Santa Fe Botanical Garden
Your journey through the beautiful Santa Fe Botanical Garden starts in the large Museum Hill complex at the foot of the Atalaya Mountain. You can easily spend a full day enjoying the garden and the four unique museums that paint a picture of Southwestern culture and history. Once you enter the bright and vibrant grounds, there are four separate sections highlighting the rich biodiversity of the American Southwest. 
The Orchard Gardens
The Orchard Gardens features a special rock channel water system that surrounds a wide variety of fruit trees, a dry garden, and an art trail full of sculptures and flower accompaniments that rotates every year. 
Kearny's Gap Bridge
The 62-foot-long Kearny's Gap Bridge stands as a beacon of the early 20th century New Mexico architecture. The bright red bridge originally stood near Las Vegas, NM, before a local rancher decided to relocate it to the Santa Fe Botanical Garden. Today, it spans a small creek bed that is full of native trees. 
Ojos Y Manas: Eyes 
and
 Hands Garden
This unique garden showcases the different ways that farmers in New Mexico work with the land to produce crops in a climate that is not conducive to traditional agriculture. Tiered gardens and several learning spaces around the Santa Fe Botanical Garden hold classes and demonstrations for students and visitors. 
Piñon-Juniper Woodland
This newly opened section of the Santa Fe Botanical Garden is an ode to nature conservation efforts around the state of New Mexico. The Piñon-Juniper Woodland showcases a natural habitat with unpaved paths that circle this sample woodland ecosystem. 
Other Attractions Near 
the
 Santa Fe Botanical Gardens
Museum 
of
 International Folk Art
The Museum of International Folk Art sits across the street from the Santa Fe Botanical Garden and shares a wide variety of crafting, beadwork, and other forms of artwork from around the world. 
Museum 
of
 Spanish Colonial Art
This museum examines and explains the cultural impact that early Spanish settlers had on the Southwest region, including art, religion, and much more. 
Wheelwright Museum 
of
t
he
 America Indian
The Wheelwright Museum of the American Indian is down the street from the Santa Fe Botanical Garden and contains historical and contemporary Native American art. Navajo and Pueblo jewelry and ceramics are just a few of the highlights in this independently owned museum. 
Museum 
of
 Indian Arts & Culture
Another one of Museum Hill's popular attractions, the Museum of Indian Arts & Culture, holds an extensive collection of Native American art, pottery, relics, and more. The building also doubles as a laboratory of Southwestern anthropology. 
Book Your 
Stay 
at
Four Kachinas
 Inn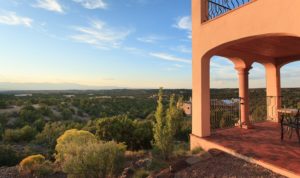 Four Kachinas Inn features a collection of beautiful rooms with locally crafted furnishings and Southwestern interior design. Our Inn provides guests with a delicious gourmet breakfast every morning and a location that is second to none in the City Different. You are within walking distance of the Santa Fe Historic District, but far enough away that you can step away from the crowds. 
Are you ready to plan your trip to Santa Fe? Browse our rooms and book your favorite! We look forward to welcoming you to our Inn!