Our Official Guide on Things To Do in Santa Fe New Mexico
The City Different has something for everyone. Whether you're looking to dive into centuries of unique history, celebrate gorgeous local art, or explore the scenic mountains and desert surrounding the town, you'll find plenty of one-of-a-kind things to do in Santa Fe. Trust us; you'll want to start booking your return visit before you even leave!  
We are located with in walking distance to all major attractions
Just a few miles away in Museum Hill, Santa Fe Opera & Tesuque Flea Market
Discover 7 of the Best Things to Do in Santa Fe
1. Discover Rich History
Discovering the rich history of Northern New Mexico is one of the top things to do in Santa Fe. Our city is brimming with centuries of history that you can experience at one of the many museums, historic sites, and walking tours in the area. Whether you want to hike through Bandelier National Monument or discover stunning local Native American art at one of the many exhibits on Museum Hill, you'll find something fascinating that everyone in your group will enjoy. Please do not hesitate to ask for some more of our favorites; we are more than happy to give you recommendations! 
2. Immerse Yourself in Southwestern Culture
The mix of Native American, Mexican, and Spanish cultures provides Santa Fe with one of the most unique atmospheres in the country. You need to get out and explore the many art galleries and museums to dig into our rich heritage. Of course, you can also get a great feel for Santa Fe by walking around town and seeing the bounty of adobe architecture. Once you get a taste, you'll want to come back again and again! 
3. Explore the Great Outdoors
Spending time outside is a must during your visit to the City Different. Just outside the city limits, you'll find gorgeous mountains with tons of hiking trails, stunning golf courses, and fly fishing along the Pecos River. It's all waiting for you here in Santa Fe! Check out some of our favorite outdoor things to do in Santa Fe below! Don't forget to check out our blog.
4. Savor Santa Fe Cuisine
Santa Fe is a foodie paradise where you'll find a bevy of flavors ranging from traditional New Mexican to modern French. Whether you want to savor sweet sopapillas or delicious green chile, you'll find something that will satisfy your palate!  
5. Celebrate Your Special Someone
Are you thinking about going on a romantic getaway with your special someone? Look no further than El Farolito Inn! Regardless of whether you're a couple that loves history, adventure, art, architecture, music, or food, you'll find something for your ideal retreat to celebrate your love.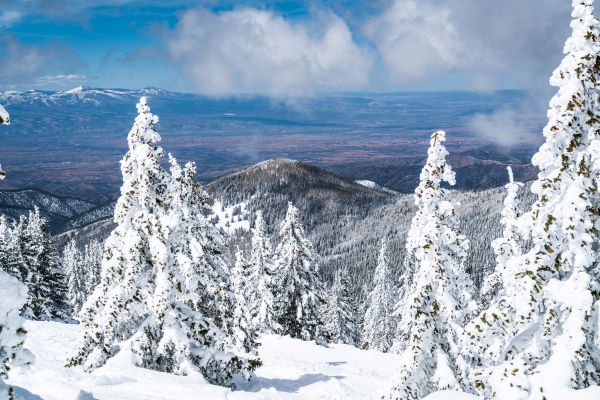 6. Enjoy Every Season
No matter what time of year you visit, you'll find plenty of things to do in Santa Fe. Each season offers something new and different to enjoy. Our weather here ranges from hot summer days to snowy winter weekends perfect for skiing in the winter. Check some of our info below on the best time to visit! 
7. Treat Yourself to A Relaxing Getaway
Your vacation shouldn't be stressful! Take a break from the hustle and bustle of everyday life to enjoy yourself during your time in Santa Fe. Our city is home to a collection of fantastic spas that offer a wide variety of experiences and treatments. Check out a few of our favorites below! 
The City Different is a place full of rich culture, historical heritage, and natural beauty. Every year, you can explore a variety of Santa Fe events that celebrate our towns one-of-a-kind spirit and flavor. Whether you're celebrating a food festival or viewing renowned works of art, there's always something new and exciting in our unique city. You can discover more events, attractions, and restaurants in our free Santa Fe Vacation Guide!
Spring
Native Treasures
The Native Treasures art market features over 200 of the most prominent Native American artists in the country. This annual Santa Fe event takes place every Memorial Day weekend.
Santa Fe Century
If you're a biking enthusiast, then you need to register for this historic race through Northern New Mexico's beautiful landscapes. The Santa Fe Century has 20, 30, and 50-mile rides during this mid-May event.
Canyon Road Sculpture Month
Canyon Road Sculpture Month is one of the newest annual Santa Fe events. Visitors and residents can revel in the unique sculptures and artwork along the beautiful Canyon Road art district throughout May for free.
Summer
International Folk Art Market
Showcasing artwork produced by 150 artists from more than 60 different countries around the world, the International Folk Art Market is an opportunity for exceptional artists to help provide themselves and their countries with financial support. You'll find incredible works of art that you can purchase during this three-day celebration of culture in July.
Santa Fe Chamber Music Festival
The Santa Fe Chamber Music Festival takes place during a six-week stretch in July and August. Kids and adults can enjoy a variety of concerts highlighting the works of famous artists and composers.
Santa Fe Indian Market
The Santa Fe Indian Market is the largest Native American Indian art market in the world. This Santa Fe event takes place every August and hosts an array of art created by over 1,000 artists from federally recognized tribes in the U.S. and Canada.
Santa Fe Fiesta and Burning of Zozobra
This unique Santa Fe event showcases the local cultural tradition of burning a tall marionette of Zozobra, who is a creation of artist Will Shuster. Zozobra represents evil and gloom, and by burning him, locals kicked off the Labor Day festivities by getting rid of their troubles and worries. It's a different experience, to say the least, so do some homework on it before attending.
Fall
Santa Fe Wine and Chile Festival
Who doesn't love a good wine and food event? The Santa Fe Wine and Chile Festival features wineries from the Southwest and West Coast paired with a delicious selection of food from local restaurants in the City Different.
Santa Fe Independent Film Festival
Five days of watching and analyzing Indie films await you at the Santa Fe Independent Film Festival. Visit in October to experience this fun Santa Fe event.
Winter
The Santa Fe Film Festival
The Santa Fe Film Festival takes place every year in February, and celebrates the cinematic arts with movie viewing, workshops, panels, and parties!
Santa Fe Restaurant Week
Foodies and culinary enthusiasts will love indulging at some of the top restaurants in the City Different. Santa Fe Restaurant Week takes place in February and allows visitors and residents to sample small tastes at many dining establishments in the area for a discounted price!
Holiday Tree Lighting on the Plaza
Ring in the Holiday season with the grand tree lighting in Santa Fe Plaza! This fun Santa Fe event takes place around Thanksgiving weekend every year.
How to Find the Best Santa Fe Wineries
The City Different offers visitors many ways to experience New Mexican culture. Whether it's a tour of the historic heart of downtown, a walk through one of the museums highlighting Native American art and history, or taste of spicy green chile, there's always something unique around every corner. If you want to experience something outside of the classic list of sights and attractions in our area, take a trip to one of the nearby Santa Fe wineries. You'll find a surprising array of award-winning wines in a handful of establishments that will leave you wanting more!
For more exciting things to do, places to see, and cuisine to sample, request access to our complimentary Santa Fe Vacation Guide!
You Need to Visit These 4 Santa Fe Wineries
Vivac Winery
You will love visiting the Vivac Winery! The tasting room right outside of Santa Fe is small yet magical. Overgrown gardens outside make your entire tasting experience enchanting, where you can sample a variety of wines to taste. We recommend indulging in the six-wine tasting and pairing it with a cheese plate or decadent chocolates. You'll want to keep coming back for more!
Casa Abril Vineyards & Winery
Casa Abril Vineyards & Winery is only a half-hour away from Four Kachinas Inn. We recommend indulging in one of their tasting experiences so you can try as many blends as possible! The views here are breathtaking; the flatlands lined by distant mountains offers an enchanting setting. The owner, Raymond, exudes his passion not only through his wines but through his incredible hospitality as well. Trust us; this is one of our favorite Santa Fe wineries to visit!
Gruet Winery
If you like a good glass of sparkling wine, you will love the Gruet Winery. The vineyard is in Albuquerque, but you can discover their incredible tasting room in Santa Fe! Located just a five-minute drive or 10-minute walk from Four Kachinas, the intimate tasting room has options for both sparkling and still wine tastings. Gruet Winery crafts each wine with expert care, so you can enjoy knowing that this is one of the best Santa Fe wineries in the area.
Black Mesa Winery
You can find the Black Mesa Winery 45 minutes north of the City Different. This award-winning establishment is one of the most popular Santa Fe wineries. Their vineyard only uses grapes grown here in New Mexico and considered some of the best in the state; they have more than 25 awards to prove it! Wines are available in their tasting room by the taste, glass, or bottle. You'll definitely want to grab at least one of their labels to bring a taste of New Mexico home with you.
Raise Your Glass to a Relaxing Getaway
After spending your day flexing your wine tasting skills, bring a bottle back to Four Kachinas Inn. You can enjoy a beautiful sunset in our garden courtyard while sipping one of your new favorite labels! Then, head back to your guest room, filled with authentic Native American decor, where you can get a relaxing night of sleep. Wake up to a tasty gourmet breakfast and head out for another day of exploring Santa Fe!
Browse our collection of guest rooms today and start planning your getaway today! We look forward to welcoming you to our beautiful mountain oasis.
Art Galleries in Santa Fe
Santa Fe is synonymous with the arts. The traditional Southwestern adobe architecture, stunning landscapes, and a unique way of living continue to inspire countless artists to create masterpieces. You can discover these incredible treasures when you visit any of these 
Santa Fe, New Mexico, art galleries
! With more than 250 galleries featuring all types of art including traditional, western, contemporary, Native American, Spanish colonial, and folk, you can spend day after day immersed in the arts.
For even more ways to experience the arts, request access to our complimentary Vacation Guide. It has everything you need to know about planning your Santa Fe getaway of a lifetime.
Our Favorite Santa Fe, New Mexico, Art Galleries
Traditional Art
Sculpture
Photography
Western/Southwestern Art
Santa Fe Contemporary Galleries
Native American
Folk Art
Art Glass
Santa Fe is a shopper's paradise! Whether you're in the market for distinctive clothing, jewelry, home décor, or just nice souvenirs, it's all here. Sophisticated shopping awaits at nearby Canyon Road and the Guadalupe/Railyard districts, while the Tesuque summer flea market and the farmer's market are perfect places to find eclectic treasures and tastes. Read about the best shopping in Santa Fe.
Clothing
Purple Sage
505-984-0600
110 Don Gaspar Ave
Overland Sheepskin Co.
www.overlandcoats.com
505-986-0757
74 East San Francisco St
Laura Sheppherd Salon de Couture
505-986-1444
65 West Marcy Street
Bohdi Bazaar
505-982-3880
564 N Guadalupe St
Nathalie
www.nathaliesantafe.com
505-982-1021
503 Canyon Road
Uli's Clothing Boutique: Santa Fe
(505) 986-0577
208 West San Francisco St
Jewelry
Patina Gallery
877-877-0827
131 West Palace Ave
Santa Fe Goldworks
www.santafegoldworks.com
505-983-4562
66 East San Francisco Street
Furniture/Home Décor
Specialty
Books
Santa Fe offers numerous opportunities to enjoy an array of performing and visual arts. The world-renowned Santa Fe Opera offers more than a handful of performances during a two month run in July and August each year. A local symphony orchestra and chorus, world-class chamber-music group, ballet and contemporary dance ensembles, and other various choral and theater groups round out the performing arts offerings. There is also a lively cinema scene in the city.
For more exciting ways to experience entertainment in our city, request access to our complimentary Santa Fe Vacation Guide.
Plan the Ultimate Santa Fe Getaway
If you want to experience the best of Santa Fe in an authentic setting near the heart of the city, look no further than Four Kachinas Inn. Our beautiful property features accommodations that are second to none in the area, offering an incredible Southwestern atmosphere and a delicious gourmet breakfast every morning.
Santa Fe is home to some of the top golf courses in the entire Land of Enchantment. Visitors can take enjoy a fantastic game of golf while taking in gorgeous views of the scenic mountain vistas surrounding our beautiful area. Whether you're new to the sport or a pro seeking a new challenge, Santa Fe is home to a collection of award-winning links. You'll discover both public and private courses providing a variety of play and settings. Most courses offer private and group lessons, pro shops, and restaurants. With over 300 days of sunshine a year, conditions are ideal for a great round of golf, followed by music, cocktails, and a fantastic meal in one of Santa Fe's incredible restaurants.
Don't forget to request our complimentary Santa Fe Vacation Guide for more tips and advice to help you plan your getaway to our mountain oasis!
Enjoy Golfing New Mexico!
Plan the Ultimate Santa Fe Golf Trip
If you want to experience the best of Santa Fe in an authentic setting near the heart of the city, look no further than Four Kachinas Inn. Our beautiful property features 
accommodations
 that are second to none in the area, offering an incredible Southwestern atmosphere and a delicious gourmet 
breakfast
 every morning.
If you want to visit Santa Fe and the surrounding area but want to leave the navigating to others, there are numerous tour operators eager to help. You will enjoy the services of knowledgeable guides steeped in the history, culture and workings of this special place. You can start out by taking a walking tour of the historic Plaza area, followed by a regularly scheduled motorized tour covering the adjoining areas and Canyon Road. There are more extensive tour offerings including excursions to galleries and artist's studios, restaurant and chef visits, wineries, ghost haunts, homes and gardens, and outdoor adventure destinations.
Review the list of tour operators that we have provided to find a match to your interests, budget and time. Many operators will customize the tour to your tastes. So if you are seeking just a short walking tour of the downtown or a more extensive air tour of the remote areas of New Mexico and the surrounding states, there's a tour operator willing to assist. They can enhance your understanding and appreciation for this area's richness and beauty.
We have provided a list of some of the many tour operators and identified their area of specialty. We have also provided descriptions of five self-guided day trips branching out from Santa Fe to the northwest, northeast, east, south and west.