Calling all photographers! Are you searching for the most Instagrammable places in Santa Fe? Well, we compiled a list of our favorite places to snap photos of our Northern New Mexico's beautiful natural landscapes and scenery. Check them out! 
If you want to discover more incredible photo-ops, taste delicious cuisine, and explore the beauty of Santa Fe, be sure to request access to our complimentary Vacation Guide. 
Where to Find the Most 
Instagrammable Places in Santa Fe
Ghost Ranch
A popular filming location, the Ghost Ranch sees its fair share of Hollywood camera shots every year. The beautiful mountains and desert scenery provide plenty of Instagram-worthy locations located throughout the ranch. 
Meow 
Wolf
This weird and wonderful technology-oriented art exhibit/science-fiction adventure is one of the most Instagrammable places in Santa Fe. While Meow Wolf may not contain the unique history or architecture of the area, there are tons of bright, vibrant, and quirky art showcases.  
Loretto Chapel
If you want to make sure you bring home a couple of pictures capturing the City Different's religious roots, make sure you stop at Loretto Chapel. The winding and architecturally baffling Miraculous Staircase is one of the most mesmerizing images in town. 
The Cross of Martyrs
A morning walk up to the Cross of Martyrs is a great way to start your day in Santa Fe. Capture the sun rising over the heart of town. It's one of the most Instragrammable moments in the city. 
Kasha-
Katuwe
 Tent Rocks National Monument
Other-worldly treasures await you in Kasha-Katuwe Tent Rocks National Monument. Dozens of white rock cones tower over a beautiful gorge filled with winding pathways offering fantastic hikes and photo-ops. 
Museum Hill
Museum Hill is home to a collection of the best museums in Santa Fe. Places like the Museum of Indian Arts & Culture and the Museum of International Folk Art offer insight into local Native American history. Snap some pictures of the beautiful art and artifacts before walking across the street to the Santa Fe Botanical Garden to view the diverse landscapes, flora, and fauna of the region. 
The Sangre de Cristo Mountains
The Sangre de Cristo Mountains are home to some of the most stunning natural scenery in Northern New Mexico. You can explore the beautiful landscapes on a collection of trails like the Atalaya Upper and Lower Trailheads and the Dale Ball Trails. Each provides scenic viewpoints and tons of Instagram-worthy places. 
Santa Fe Plaza
The Plaza is one of the most Instagrammable places in Santa Fe. Adobe buildings filled with shops, museums, and cafes line the streets of this beautiful town center. Trust us; you will want to bring your camera along with you here. 
Margaritas and Green Chile
No trip to the City Different is complete without sampling a Margarita and a plate of delicious local food topped with Green Chile. While this may not be a singular place, there are tons of restaurants in town that serve up both Santa Fe highlights (be sure to check out the Coyote Café and Rooftop Cantina). 
Book Your 
Santa Fe Trip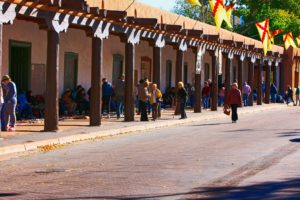 Now that you know where to capture the best images of our city, are you ready to visit? Four Kachinas Inn is your key to experiencing the best that Santa Fe has to offer.  Each of our rooms features authentic Southwestern accents and comfortable furnishings.  
Start planning your adventure to the Land of Enchantment by booking one of our rooms today! We look forward to welcoming you to Santa Fe!