The charming desert city of Santa Fe should be on your "must-see" list this year. It's one of the best places to stay in New Mexico for a vacation rich in culture, arts, and the history of the region, plus a whole range of outdoor adventures. In Santa Fe especially, you'll find the best art galleries, museums, restaurants, hiking opportunities, and the Santa Fe Farmers Market, one of the best in the country.
Our Santa Fe Bed and Breakfast is within walking distance to many of these attractions but also set back on a quiet street away from the crowds. The traditional adobe walls surround the Inn, creating a private and secluded feel for your getaway. Within these walls, you'll find beautiful flowering trees and a peaceful garden courtyard leading to our six unique and luxuriously appointed guest rooms. Many of which have private or adjoining patio spaces.
From the minute you arrive at Four Kachinas Inn, you'll see why we're one of the best places to stay in New Mexico. Not only will you feel welcomed with open arms, but our impeccable design and decor transport you to the Southwest. Unlike lodging at a traditional hotel, our accommodations become an integral part of your vacation, creating a more memorable experience. Start planning your next fantastic getaway to Santa Fe today!
Join us at one of the best places to stay in New Mexico and book your room!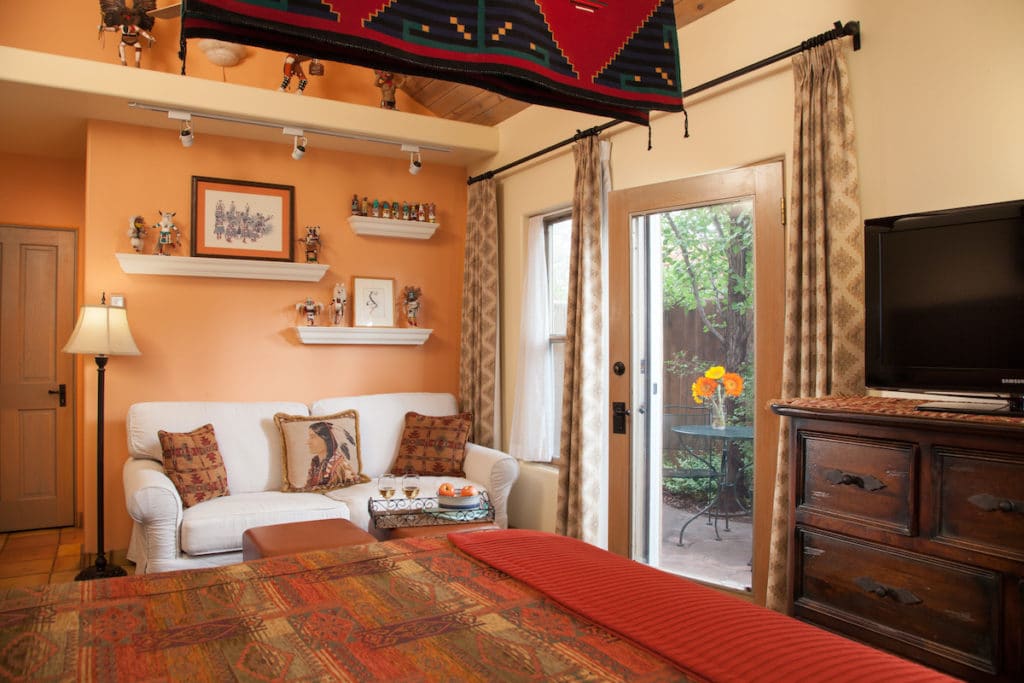 One of the Most Relaxing Places to Stay in New Mexico
Year after year, our Santa Fe Bed and Breakfast is recognized by TripAdvisor with the Certificate of Excellence Award. This honor means so much because it's based on our guest's experiences—it's all due to our fantastic five-star reviews. Come find out for yourself why we're one of the top-rated places to stay in New Mexico!
Santa Fe is one of the best places to stay in New Mexico, let us be your hosts:
First of all, we'd be remiss, not to mention our location within Santa Fe. After all, the city is why you're here! Thankfully, we're within walking distance to the Santa Fe Plaza, where tourists and locals come together in the heart of the city. It's a warm and welcoming place where everyone celebrates the arts, museums, music, and cultures of the Southwest. You'll especially see this at the local Santa Fe restaurants and bars, creating beautiful and delicious meals and beverages.
Our six guest room offerings set us apart from other lodging options in the area. Each room is one of a kind, with tasteful Southwestern decor representing a facet of Santa Fe culture. You'll find private entrances, fireplaces, comfy beds and seating areas, en suite bathrooms, and high-end comfort amenities.
We're happy to help plan and make recommendations for your stay in Santa Fe. Whether in the mornings at breakfast or in the shared spaces of the Inn, our knowledgable staff is willing to answer questions and suggest an outing or a favorite restaurant. While you'll have complete privacy, we're on call if a need arises.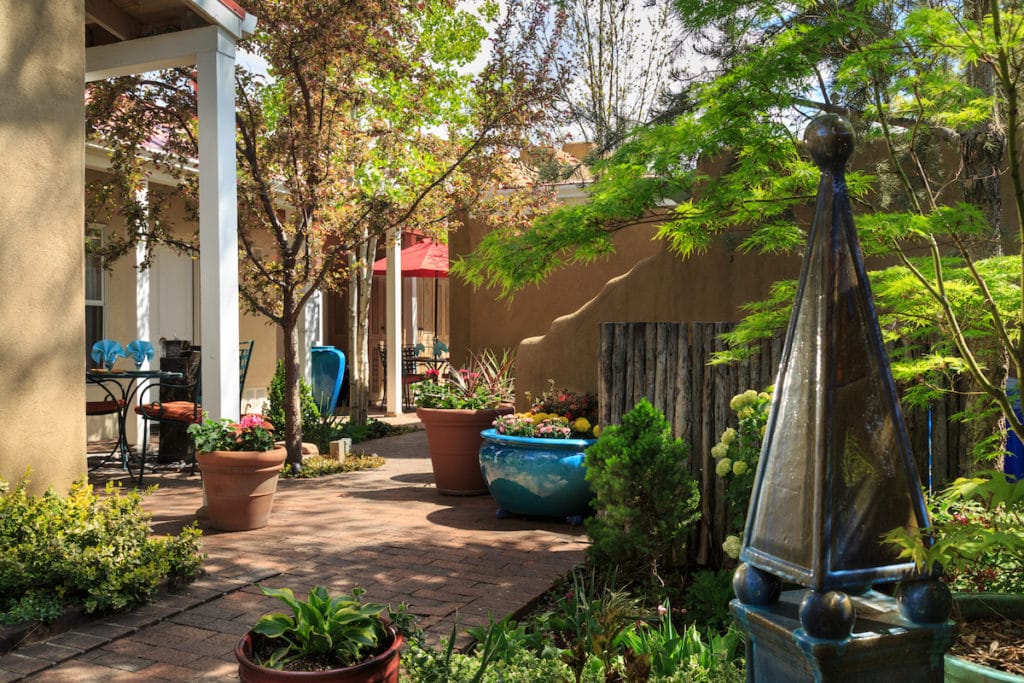 Spending time outdoors is an essential part of a getaway to Santa Fe. While there's some misconception about the heat, our desert city sits at 7,000 feet elevation, meaning relatively temperate seasons all year long. Even at the peak of summer, we rarely see temps above 90—and it's a dry heat, so there's something rejuvenation about the warmth in the air. Our Santa Fe Bed and Breakfast is one of the best places to stay in New Mexico for quiet outdoor space in our shady courtyard in the dappled sunshine.
Regardless of what you plan to do during the day, each morning here will start with a delicious and hearty breakfast. It's the perfect fuel for whatever activities lie ahead. You definitely won't go hungry here – and this is one of the many reasons our Bed and Breakfast is one of the best places to stay in New Mexico. You'll love our seasonal recipes with fresh local ingredients from Santa Fe.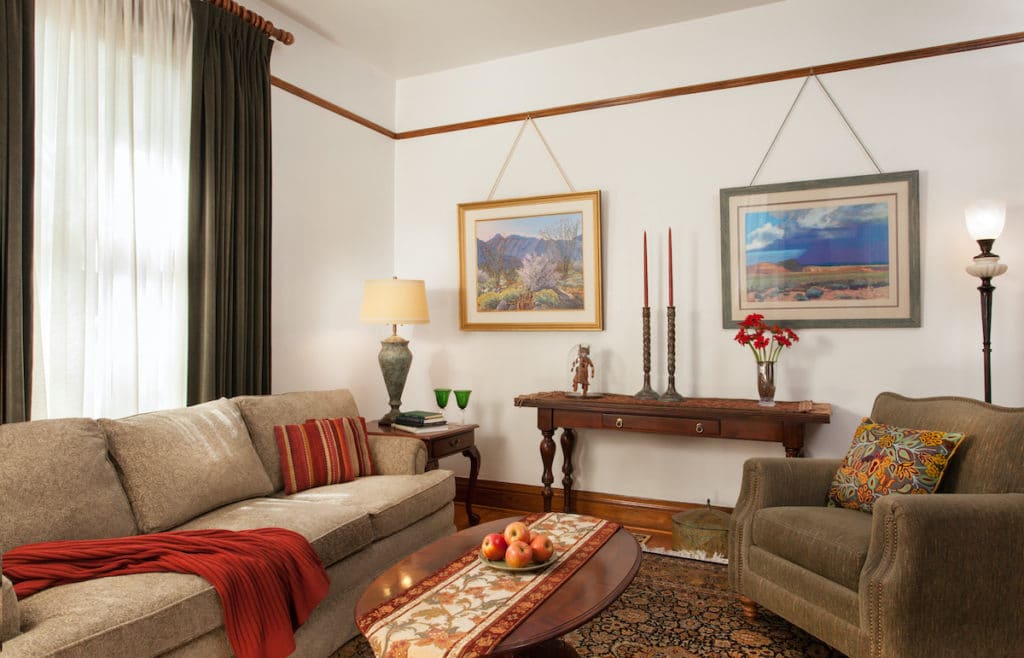 Add on a Special Treatment Santa Fe Style
We know how important lodging is when it comes to a successful vacation, and Four Kachinas is one of the best places to stay in New Mexico due to our selection of add-ons to your stay. We don't keep these choices constrained by packages; instead, we allow our guests to tell us what they need for a perfect getaway. Just give us a call ahead of time and tell us what you'd like to await your arrival (for a reasonable fee). Either fresh flowers, chilled Champagne, chocolates, or a cheese platter, we can make this happen for you.
Book your room at one of the best places to stay in New Mexico today!