It's almost that time of year again in New Mexico when the mountains at Ski Santa Fe will receive their first blanket of newly fallen snow, pristine and powdery for the opening of ski season. We often see snow here in late fall through early spring, with about 300 inches of snowfall per year. Pair that with the abundance of sunshine year round and you get some perfect ski conditions.
Ski Santa Fe has one of the highest elevations in the country, clocking in at just over 12,000 feet. Ski Santa Fe is a family-friendly resort offering an array of runs from beginner to expert skiers and snowboarders. For those who prefer the slower-paced winter recreations, like cross country skiing or snowshoeing, there are great options for those sports as well at Ski Santa Fe.
Our Santa Fe Bed and Breakfast is right in the heart of downtown and only 16 miles (about a half hours drive) from all of the winter fun at Ski Santa Fe. The Four Kachinas Inn is family-friendly with six spacious guest rooms all equipped with private entrances with charming patio space, en suite baths, cozy fireplaces, and traditional Southwestern decor. Make your plans to Ski Santa Fe this winter and get your lodging on the books!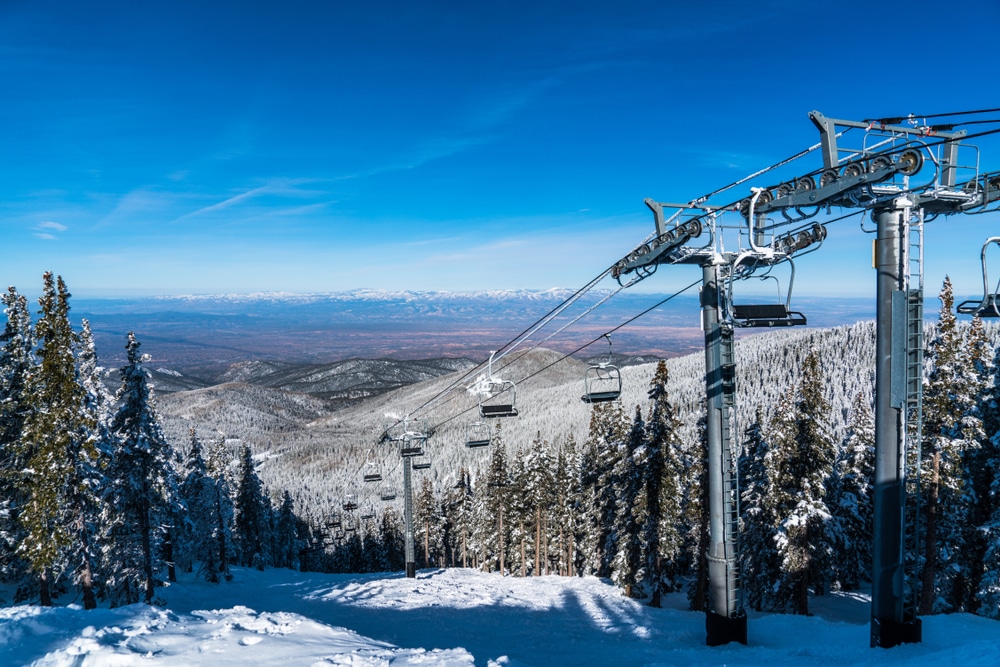 Head to New Mexico to Ski Santa Fe This Winter
One of the best places in New Mexico for winter sports is Ski Santa Fe, which is conveniently located only 30 minutes from the downtown Santa Fe area. Start planning your next weekend ski getaway or extended family vacation in the snow before the season begins.
Here are six things to know about Ski Santa Fe before you go:
Ski Santa Fe is a 660-acre family-owned operation located in the Sangre de Cristo Mountains just east of Santa Fe. There are 86 ski runs with some at elevations of 10,000, making Ski Santa Fe one of the highest resorts in the country. The ski run breakdown is 20 percent beginner, 40 percent intermediate, and 40 percent expert on the two mountain peaks: Lake and Tesuque.
The terrain at Ski Santa Fe is ideal for downhill skiing and snowboarding due to the use of corduroy groomers that produce the perfect snowpack and ridges. Glide through extensive glades or challenging runs on the steep hills, including a vertical rise of 1,725 feet.
You'll find seven chair lifts, including one quad for four people to ride together. During the summer months, the lifts are available to ride for stunning views of the mountain peaks.
There's a large lodge, known as La Casa, at the base of the resort, where you'll find three restaurants to refuel and relax after a day on the slopes. Totemoff's Bar and Grill is a great spot to enjoy a warm beverage and a green chili cheeseburger. La Casa is also where you'll find rentals, information for lessons, and the Ski Santa Fe Sports Shop.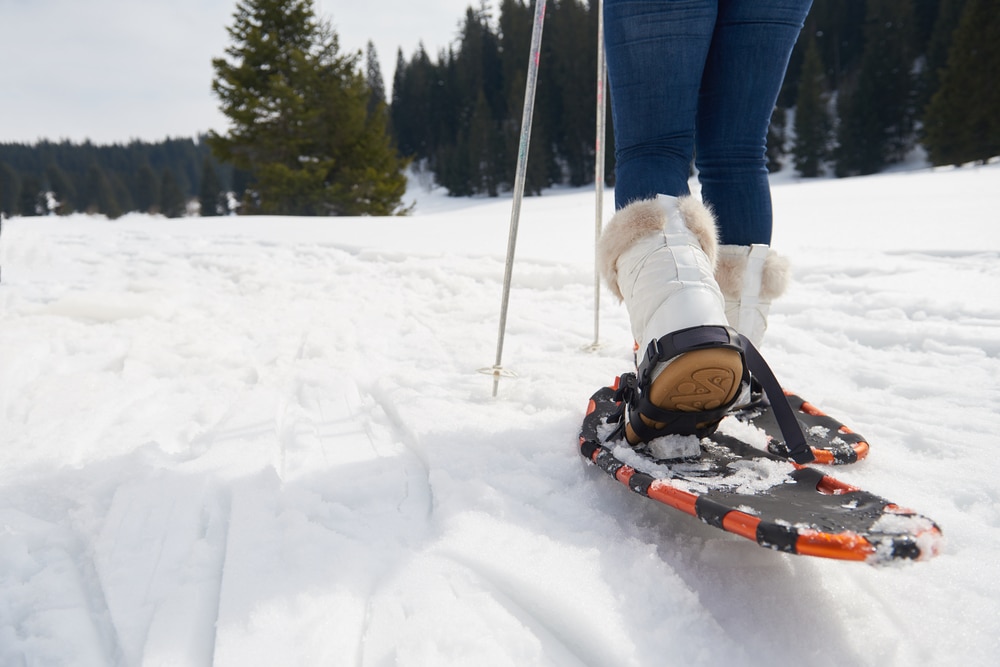 One of the main reasons Ski Santa Fe is known as such a family-friendly resort is due to the Chipmonk Corner, the youth ski lesson program. Instructors have a reputation for being patient and kind while imparting essential tips and safety about skiing to the kids. They offer half or full-day lessons and all gear rentals are included in the cost.
Check out the Aspen Vista Trail or the Nordic Trail on Hyde Park road just below the Ski Santa Fe resort for those who prefer to cross-country ski or snowshoe. This is a lovely way to spend the day in the snow, taking in the fresh air and the absolutely stunning scenery of Santa Fe in the winter.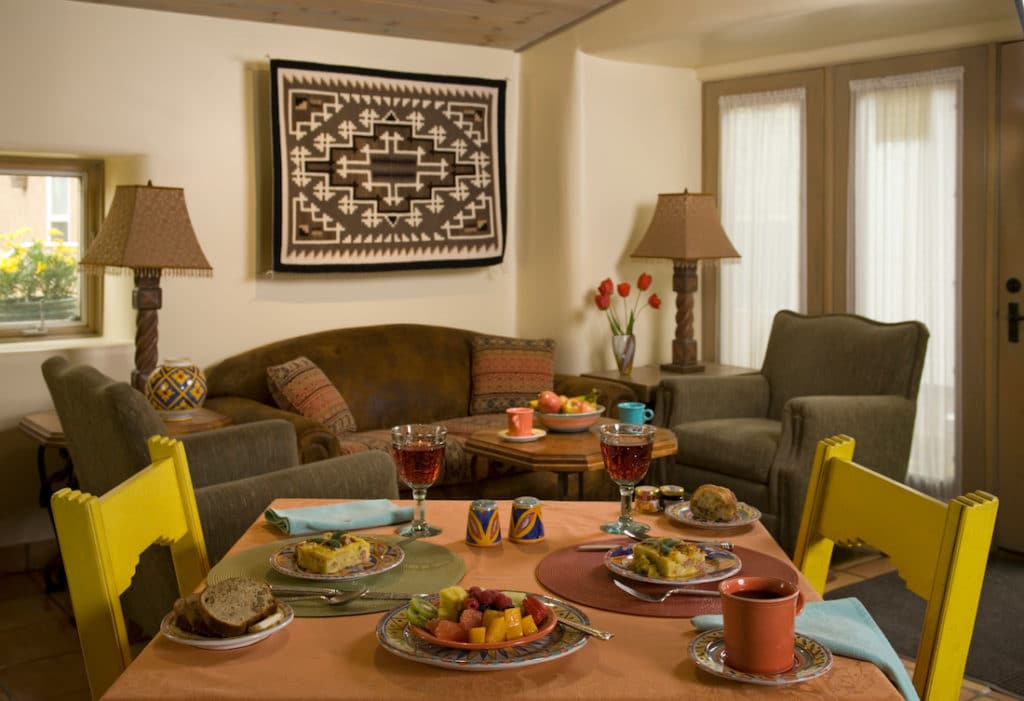 Start Your Day at Our Santa Fe Bed and Breakfast
We offer a delicious and complimentary morning meal at our Santa Fe Bed and Breakfast. It's the best way to stay your day, especially before you hit the slopes at Ski Santa Fe. Fuel up at the buffet with freshly baked goods, hot entrees with traditional Santa Fe ingredients, fruit dishes, and beverages. Enjoy your breakfast in the dining area or the adjacent sunny outdoor patio.
As always, we're happy to accommodate special requests and hope to make your stay as memorable as it can be. Let us know if you're celebrating an event or anniversary! Our add-on indulgences, like chocolate-covered strawberries, Champagne, or snack plates, can be the perfect details to enhance your stay. Join us for ski season this year and book your room today!