Sometimes there's nothing better than taking in the gorgeous countryside from the comfort of your own car on these New Mexico scenic drives. Pick out your favorite tunes, grab some snacks and sodas for the road, and enjoy the ride. Thankfully, our area near Santa Fe has some of the best New Mexico scenic drives to see iconic landscapes, diverse plant and wildlife, and to feel the fresh desert wind in your hair.
The scenic byways leading to and from Santa Fe offer a great way to plan a few day trips on your stay here. Along the way you'll uncover places to stop and stretch your legs with breathtaking vistas, local cafes for a bite to eat, or special shops for souvenirs. You'll also discover how peaceful and serene this part of the country is on these New Mexico scenic drives. We're known for sunny days, fresh air, and friendly Southwestern hospitality.
Our downtown Santa Fe Bed and Breakfast is the ideal space to make your home on any vacation to our charming city. As an arts and cultural destination, there's plenty to fill your time with here. Be sure to set aside a day for one of these New Mexico scenic drives. Join us at the Inn before you hit the road for a homemade breakfast with local and season ingredients. Enjoy your meal in our comfortable dining room or al fresco at one of the outdoor tables.
Check our availability and book you next stay in Santa Fe!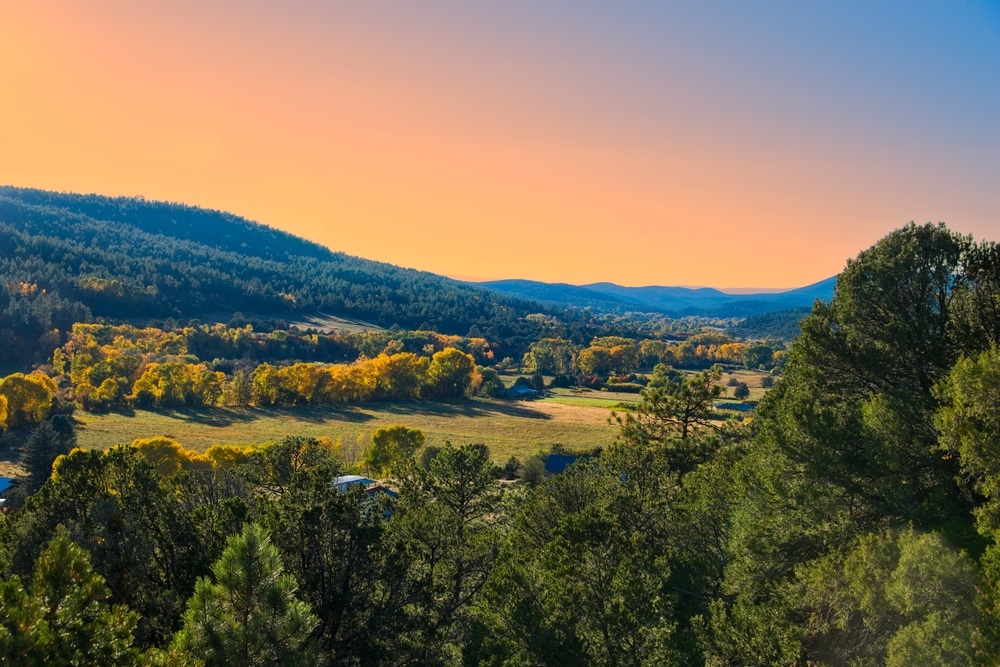 The Best Routes for New Mexico Scenic Drives this Fall
One of the best ways to get to know an area is by exploring the byways and highways by car, these New Mexico scenic drives are no exception. You'll see some of the most beautiful landscapes from dense forests to open deserts, awe-inspiring rock formations, and even some historical landmarks.
Here are five of the best routes for New Mexico scenic drives to check out this fall:
High Road to Taos: This is by far one of the most popular New Mexico scenic drives in our state. The long, winding road takes you through the Sangre de Cristo Mountains. Along the way, you'll encounter high desert, mountainous terrain, Pueblo villages, and much more. If you're planning on making a stop or two, we suggest the Santuario de Chimayo, a National Historic landmark and spiritual site.
Enchanted Circle: Pass by historic towns and landmarks like the oldest occupied residence of New Mexico, the Taos Pueblo, alpine forests, and lakes. The route encircles the tallest part of the Sangre de Cristo Mountains, Wheeler Peak.
Puye Cliffs Scenic Byway: While the Puye Cliffs Dwellings are currently closed still for safety reasons, the road remains open, and this is one of the New Mexico scenic drives that's very close to Santa Fe. The landscape here is rugged and the cliff formations boast some of the best views around town.
Santa Fe National Scenic Byway: In the fall, the golden aspens of this forested area put on a show. The bright yellows and golds glow, making this by far one of the best New Mexico scenic drives. You'll drive up the mountain path and find the glory all around you. This is a perfect place to stop for hiking in Santa Fe, a nice picnic lunch, or just a break from driving to take in the view.
Jemez Scenic Route: There are few great places to stop off on this drive, including the Jemez Pueblo, various hot springs, and Soda Dam, a unique rock formation and waterfall. Plan on making a date at the Spence Hot Springs for a quick hike in and a warm water soak in one of the pools.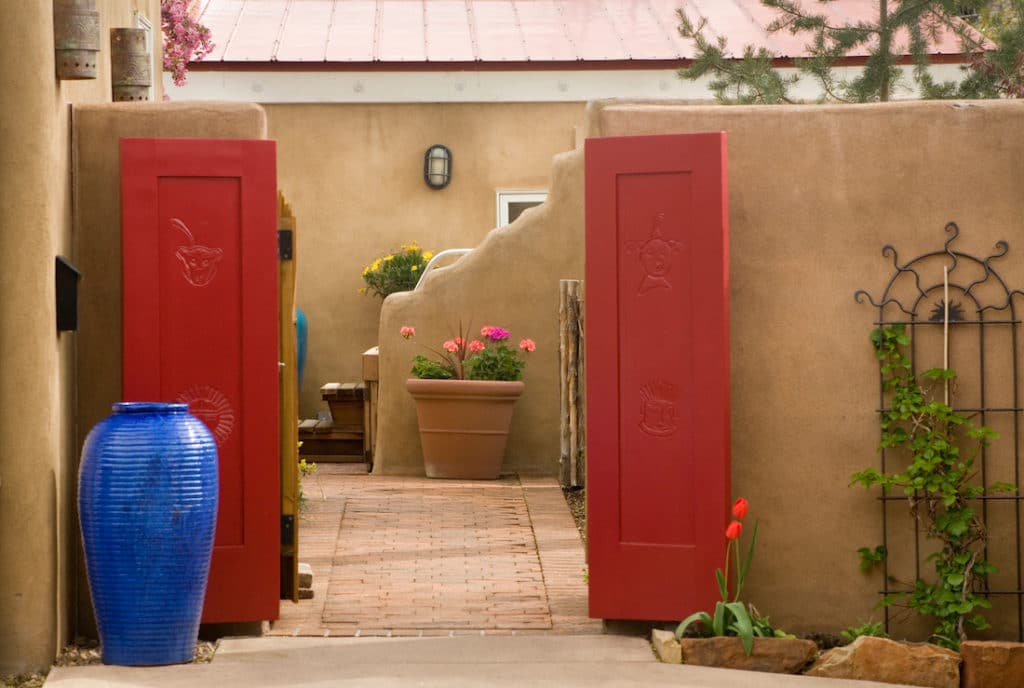 Picturesque Gardens at our Santa Fe Bed and Breakfast
After exploring the diverse landscapes of our area on one of these New Mexico scenic drives, head on back to our Santa Fe Bed and Breakfast for a relaxing and comfortable stay. Our six guest suites offer the ultimate retreat for a quiet getaway for two, a family vacation, or a solo trip to reset. Each room is equipped with modern amenities, luxury linens, and a sense of New Mexico culture and style.
Ask a guest at our Santa Fe Bed and Breakfast, all of the best activities in our vibrant and established downtown area will be within walking distance from our Inn. You'll love being so close to everything, but feeling secluded in our lovely adobe-walled gardens. We can't wait to host you here in Santa Fe. Book today!