There are countless things to do and see in Santa Fe, but the rest of New Mexico is also waiting to be explored! During your stay at Four Kachinas, consider some Santa Fe day trips to see outside the city. No matter which direction you drive in, you'll come across an interesting destination. Access our complimentary Travel Guide for the inside scoop on planning your Santa Fe getaway!
4 of the Best Santa Fe Day Trips
Taos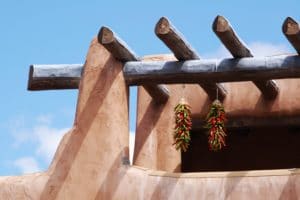 If you only have enough time for one Santa Fe day trip, Taos should be it. Taos is a beautiful, historic town located at the base of the Sangre de Cristo Mountains. The Taos Pueblo were its first residents, and you can see their classic adobe structures that are estimated to be over one thousand years old. Highlights of this trip include the Taos plaza, a historic walking tour, and the views from the The Rio Grande Gorge Bridge. At 650 feet above the river, this bridge is the second highest cantilever bridge in the country!
Abiquiu 
If you consider yourself a lover of the arts, you'll want to venture out to the small town of Abiquiu. Located 60 miles from the city, you can see the stunning colors and vistas that inspired famous New Mexico artist Georgia O'Keeffe. You can even see and tour her iconic home and studio through the Georgia O'Keeffe Museum; just make sure you request a tour reservation in advance!
Kasha-Katuwe Tent Rocks National Monument 
If you're looking for Santa Fe day trips that will take you to gorgeous outdoor areas, we know exactly where to send you. Located about 40 miles Southwest of Santa Fe, the Kasha-Katuwe Tent Rocks National Monument is the perfect place for nature lovers. The area is filled with cone-shaped rocks that were formed 6 to 7 million years ago due to a volcanic eruption. You have never seen a landscape like this before! You can enter into the monument between 8:00 a.m. and 4:00 p.m.
Bandelier National Monument 
Less than an hour away from Santa Fe is the Bandelier National Monument. Complete with 33,000 acres of rugged canyons and beautiful mesas, you could spend hour after hour exploring. During your adventure, you'll find Petroglyphs, dwellings carved into the soft rock cliffs, and standing masonry walls that pay tribute to the early days of the ancestral Pueblo people that first lived here. It's incredible to see this history right before your eyes!
Book Your Santa Fe Getaway Today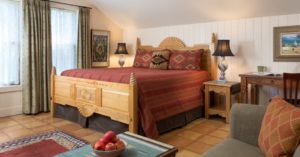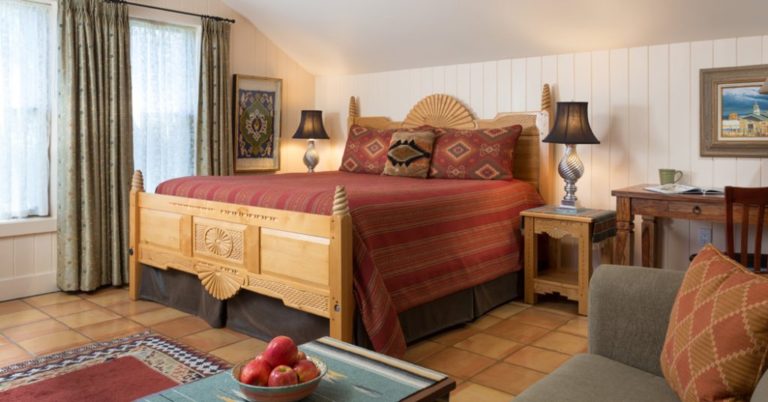 You'll need a home base for all your Santa Fe day trips, and we know just the place. Four Kachinas has everything you need for an outstanding stay in the city. Unlike your typical chain hotels, our bed and breakfast will immerse you in the culture of our area. Each room is decorated differently and features Southwestern decor. Browse our accommodations to decide your favorite, then book your stay! Plus, each comes with outstanding amenities including a delicious breakfast each morning to start your day off right. We look forward to seeing you!