Canyon Road Santa Fe is one of the best places to see a collection of art galleries and boutiques. This magical half-mile is an old residential street, tree-lined and peppered with outdoor sculpture installations, now home to more than 80 galleries, shops, and restaurants. You'll find art styles ranging from modern and contemporary to antique and authentic, traditional designs. It's a lovely outing to plan for during your time in the City Different!
This area is easily explored on foot—take your time, stop for a coffee, tea, or lunch at the Teahouse Santa Fe, and leisurely peruse these local gems showcasing a plethora of genres of stunning artwork, jewelry, sculptures, and more. Before you start setting your itinerary, you'll need to choose where you'll stay, and our Santa Fe Bed and Breakfast is the ideal addition to any getaway to New Mexico. Not only will you be wowed by our amenity-packed guest rooms, but we take care of breakfast each morning, serving an authentic and flavorful meal to start your day.
Check out our upcoming availability and book your next stay at Four Kachinas today!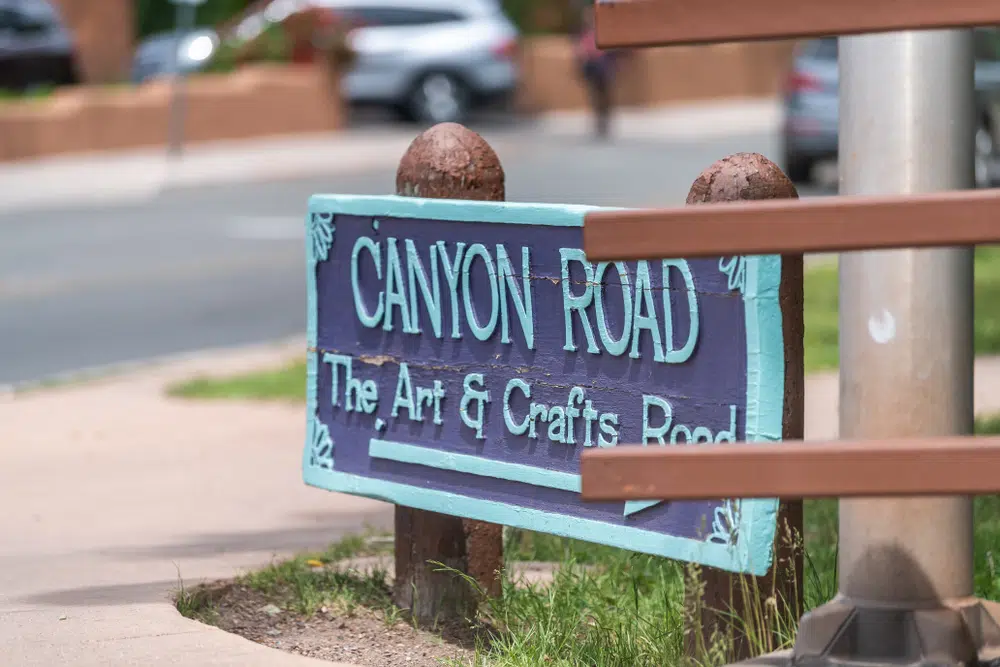 The Best Collection of Art on Canyon Road Santa Fe
The choices of where to stop along Canyon Road Santa Fe are enormous, with more than 80 galleries and boutiques. It's always best to go where your eye catches; we doubt you'll be disappointed. For those who like a jumping-off point, here are five places on Canyon Road Santa Fe that we recommend:
Along Canyon Road Santa Fe, you'll come across some fantastic examples of historical rustic adobe buildings designed in the Pueblo style. These structures tell a story in the faded, chipped paint and cracked ancient clay walls. Additionally, you'll come across outdoor art installations throughout the street, some more subtle than others, but all worth a look. From the colorful murals and bright metal work to whirly gigs hanging in trees, Canyon Road Santa Fe is a feast for the eyes at every turn.
Your Quintessential Lodging in Santa Fe
You'll feel fully transported to the Southwest as a guest at our Santa Fe Bed and Breakfast. We've paid attention to every inch of our Inn, ensuring it's an immersive and authentic experience. Our very own art collection on site showcases some of our favorite local artists, and each guest room is equipped with handcrafted furniture and goods from nearby. This decor adds richness to your stay; we're truly an oasis of paradise in Santa Fe, close to it all but tucked away behind adobe walls.
As a guest at our Inn, you'll be within walking distance to Canyon Road Santa Fe. Parking can be difficult, so it's best to leave your car when you can. We're always happy to offer recommendations and directions, so allow us to help when needed. We can't wait to host you in Santa Fe! Book today.