The Santa Fe National Forest is home to more than a thousand miles of streams and nearly 20 fish-bearing lakes—creating the ideal space for Santa Fe fly fishing. An excellent activity for getting away from the hustle and bustle of everyday life surrounded by nature, fly fishing can be a fantastic solo retreat or a great group activity to do with loved ones, friends, and family. Santa Fe fly fishing is not only one of the best ways to take in the beautiful scenery, but it's a way to connect with nature on a deeper level.
Before planning your Santa Fe fly fishing excursions, you'll want to get your lodging on the books. Whether you're heading to New Mexico for a solo retreat, couple's trip, or family getaway, our premier Santa Fe Bed and Breakfast offers an array of accommodations for any vacation style. Allow us to take care of your morning meal (included for every guest with your overnight rate)—ideal for those traveling with younger kids in tow!
Start planning your trip to Santa Fe and book our downtown B&B today!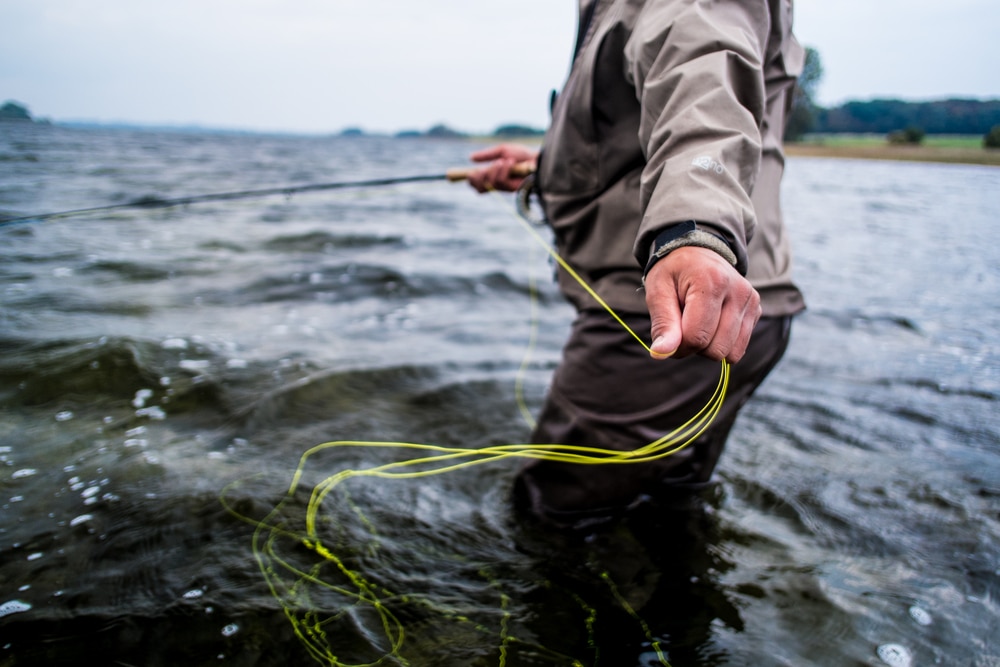 The Best Way to Experience Santa Fe Fly Fishing
Some experience anglers claim that New Mexico is one of the best-kept fly fishing secrets. All due to the ideal weather, beautiful scenery, and the broad selection of species, including trout, catfish, bass, and Northern pike. Santa Fe fly fishing can be an immersive backpacking adventure for the experienced. Still, thankfully there are a host of local companies offering day trip excursions for those looking to experience fly fishing in New Mexico for the first time.
Here are three exemplary Santa Fe fly fishing tour companies to check out:
High Desert Angler: As the first ever Santa Fe fly fishing shop, this company opened its doors in 1985 to best serve the experienced and novice anglers in the area. Join these seasoned guides as they traverse the waters like the back of their own hands. These tours are tailored to first-time fly fishers and experienced anglers to fine-tune their skills. High Desert Angler boasts exclusive access to miles of privately leased waters inaccessible to the general public and only made available to clients for a one-of-a-kind fly fishing experience.
The Reel Life: These local guides offer tours throughout New Mexico on public and private waters. The patient and professional staff are there to give the best instruction possible with the goal for guests to enjoy their time, all while learning how to fly fish. Pick from their half-day to full-day wade trips, either in the morning or afternoon time slots.
Land of Enchantment Fly Fishing Guides: As an ORVIS-endorsed fly fishing guide service, this local group of experienced anglers offers guided fishing trips in the Santa Fe, Chama, Taos, and the San Juan River areas. They provide all of the fly fishing gear you'll need during the trip, included in the cost. Better yet, they offer transportation to and from most of the fishing spots and will pick you up right at our Santa Fe B&B.
An Excursion to Nambe Lake for Santa Fe Fly Fishing:
Nambe Lake is an alpine lake located 12 miles from Santa Fe near Holy Ghost, NM, in the Santa Fe National Forest. It's a 6.7-mile out-and-back trail that winds through the Sangre De Cristo Mountains and is quite challenging, so best for experienced hikers. If you've packed in your fly fishing gear, the lake is full of a variety of fish, including brook trout, northern pike, smallmouth bass, perch, and rainbow trout. It's a hot spot for Santa Fe fly fishing enthusiasts, and you're bound to reel in a few beautiful catches!
Beautiful Lodging at our Santa Fe Bed and Breakfast
After a Santa Fe fly fishing excursion, you'll be relieved to return to your comfortable guest room at Four Kachinas Inn in the heart of downtown. You'll have everything you need to sit back, relax, and let the day's adventures soak in. Each room is unique, with Southwestern decor representing the diverse cultures in New Mexico. You'll find private entrances, fireplaces, high-end luxury mattresses, seating areas, en suite bathrooms, and all the necessary comfort amenities.
Whatever your day entails on your vacation, each morning at our Santa Fe Bed and Breakfast starts with superb and hearty breakfast fare. It's the perfect place to fuel up for Santa Fe fly fishing or just a stroll to the nearby historic Plaza and local shops. We use seasonal ingredients from Santa Fe whenever possible in our flavorful, authentic recipes—we can't wait to host you!