Rich culture, fascinating history, and tons of outdoor activities—these are all things you can expect during a visit to our Northern New Mexico oasis. But that also begs the question, when is the best time of the year to visit Santa Fe? Keep reading to discover everything you need to know about each of our seasons before planning your next vacation to the City Different. 
For more information about how to make the most of your trip to Santa Fe, be sure to request access to our complimentary Vacation Guide! 
Discover the 
Best Time of the Year to Visit Santa Fe
Spring
Spring is arguably the best time of the year to visit Santa Fe if you love to get out and explore the great outdoors. The winter weather begins to transition to spring in March and gradually gets warmer as spring goes on. This is a very mild season; temperatures usually hover between the 60s and 70s, although sometimes a sweater is necessary. This weather makes it a prime time for exploring some of our fantastic outdoor areas like Pecos National Historical Park, Kasha-Katuwe Tent Rocks National Park, and the Sangre de Cristo Mountains. There are also plenty of annual festivals, outdoor exhibits, and markets during the spring! 
Summer
Summer in Santa Fe can get hot, but the nights are usually cool. Average daily temperatures typically stay in the 80s, while cooler temperatures in the 50s make for chilly evenings. If you don't mind the heat, this is the best time of the year to visit Santa Fe to enjoy outdoor activities and culture around town. The Santa Fe Opera season is a must-see experience that runs through the summer.  
Fall 
Santa Fe in the fall is like Santa Fe in the spring. Many people think this is the best time of the year to visit Santa Fe because the weather is mild, and crowds are much smaller than summer.  Average temperatures range from the low 60s to the high 70s during the day. There are tons of festivals and events to enjoy before the weather gets cold. September, October, and November are among some of the best months for hiking adventures in Northern New Mexico! 
Winter
Winter is one of the slower seasons here in Santa Fe due to the cold weather and snow. However, there is plenty of opportunity for skiing and winter sports! You can also venture into the mountains to discover one of the beautiful hot springs or relax at one of the spas in town. Enjoy a weekend in and venture out for restaurants and shopping in the historic city center before snuggling up in your cozy guest room! 
Plan Your Santa Fe Vacation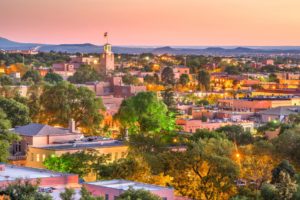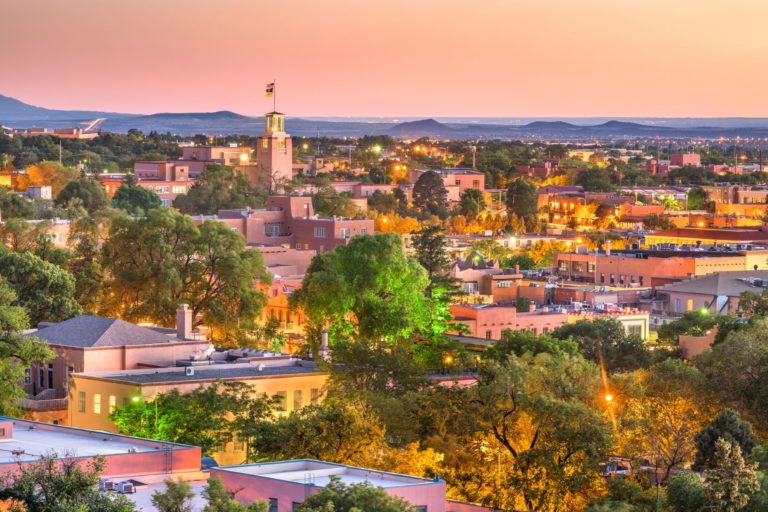 For an authentic stay near the heart of Santa Fe, look no further than the Four Kachinas Inn. Our beautiful Inn is home to a collection of well-appointed rooms filled with locally made art and furnishings. You also receive a delicious complimentary breakfast every morning of your stay that will have you up and ready to explore our incredible destination. 
Start planning your trip today by booking one of our rooms. We look forward to welcoming you to our Northern New Mexico oasis!