Santa Fe is the land of plenty; plenty of things to see, plenty to do, plenty of opportunities for outdoor recreation, plenty of museums and art galleries to browse, plenty of eclectic and diverse shopping experiences to enjoy, and plenty of delicious food to savor.  When guests ask us for recommendations on what to see and do when they visit Santa Fe, there is a seemingly endless list to pull ideas from.  That is what makes Santa Fe a wonderful and unbeatable travel destination for travelers of all backgrounds and interests. Whether you like to dig into history and explore culture, celebrate at vibrant festivals, find exquisite gifts or keepsakes, pump up your adrenaline outdoors, or just eat really great food, Santa Fe is the place to be in 2016. Book your room at our luxury Santa Fe Bed and Breakfast, and find out for yourself just how spectacular Santa Fe really is.
Why Visit Santa Fe?
Sometimes, a better question to ask yourself is this:  Why not visit Santa Fe?  I can come up with plenty of reasons to visit Santa Fe, but it's hard, if not impossible, to find an excuse to stay away.  Without further adieu, here are the top 5 reasons to visit Santa Fe in 2015:
Festivals
It's no secret that Santa Fe plays host to a thriving and festive culture, celebrated in a myriad of ways throughout the year.  These festivals and celebrations are what make our city so unique.  Thought the list is by no means complete, here are the top festivals in 2016, including their prospective dates if known.
Top Art Museums & Galleries
Santa Fe is one of the richest art destinations in the country, with several high quality museums and over 250 art galleries to browse.  A sample of our favorites include:
Shopping
What's not to love about shopping?  Whether you are looking for unique gifts to give to friends and family, are searching for the perfect keepsake, or just like to browse, Santa Fe has a tremendous variety of shopping for you to enjoy.  From distinctive clothing, jewelry, home décor, or authentic souvenirs, Santa Fe's shops have it all.  We have plenty of favorites to recommend for you, but our favorites areas to explore are the Railyard District, Canyon Road, and of course Santa Fe's historic Plaza.  Some of the best items are found in the bargain consignment shops in and around Santa Fe.  Art lovers won't want to miss the gift shops at the many great local museums or local art galleries, either.
Outdoor adventure & Recreation
If there's one theme that seems to resurface in Santa Fe over and over again, it's abundance.  We have an abundance of fun, an abundance of art, an abundance of shopping, and you guessed it:  An abundance of outdoor recreation!  With over 300 days of sunshine each year, it's no wonder Santa Feans like to get outside and enjoy the beauty that is New Mexico.  Though you could spend years in Santa Fe and still not have a chance to explore all of the wonderful outdoor destinations to their fullest, here's a short list to at least get you started:
Best Food City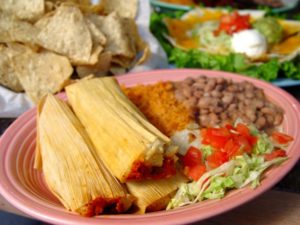 It could be argued that we saved the best for last.  It's impossible to talk about your pending visit to Santa Fe without also talking about the food.  Santa Fe is highly regarded as a foodie paradise, and is consistently ranked as a top food and wine destination.  It's a big reputation to live up to, but we assure you, you won't be disappointed.  When you visit Santa Fe, the food is more than just a meal to keep you going; it's a cultural journey through the ethnically diverse world of Santa Fe.  We recommend planning ahead and making reservations at some of Santa Fe's finer and more popular restaurants when possible.  To get you started, here are some of the current favorite places to dine in Santa Fe:
No matter what you do when you visit Santa Fe this year, we know you're going to have a wonderful time.  Book your room with us at our luxury Bed and Breakfast today!