Santa Fe Wineries
Everything You Need to Know About Santa Fe Wineries
Did you know that New Mexico is one of the oldest wine producing regions in America? Spanish missionaries planted the first vines in the Rio Grande Valley in the late 16th century. Today, many vineyards can be found throughout the state! Sip on some amazing vintages at Santa Fe wineries during your stay at Four Kachinas.
Access our complimentary Vacation Guide to get the inside scoop on planning your getaway!
4 of the Best Santa Fe Wineries
Gruet Winery  
If you like a good glass of champagne, you will love the Gruet Winery. The vineyard is located in Albuquerque, but there is an incredible tasting room in Santa Fe! Located just a 5-minute drive or 10-minute walk from Four Kachinas, the intimate tasting room has options for both Sparkling Wines Tastings and Still Wines Tastings. Each wine is made with expert care by the prestigious Gruet family, so you are sure to enjoy whichever blend you choose.
Vivac Winery
You will love visiting the Vivac Winery! The tasting room right outside of Santa Fe is small yet magical. The overgrown gardens outside make your entire tasting experience enchanting. Here, you will find a variety of wines you can choose from to taste. We recommend indulging in the 6-wine tasting and pairing it with a cheese plate or their decadent chocolates. You'll want to keep coming back for more!
Black Mesa Winery 
Located about 45 minutes north of Four Kachinas, Black Mesa Winery has become a fan favorite of Santa Fe wineries. This vineyard only uses grapes grown here in New Mexico and is considered some of the best in the state; they have more than 25 awards to prove it! Wines are available in their tasting room by the taste, glass, or bottle. You'll definitely want to bring home a bottle or two so you can have a taste of New Mexico back home!
Casa Abril Vineyards & Winery
Just a half hour away from Four Kachinas Inn, you will find Casa Abril Vineyards & Winery. We recommend indulging in a tasting so you can try as many blends as possible! The views here are breathtaking; the flatlands lined by distant mountains are exactly what you want to see at Santa Fe wineries. If you get to meet the owner, Raymond, you are in for a huge treat. His passion shows not only through his wines but through his incredible hospitality as well.
Cheers to the Perfect Santa Fe Getaway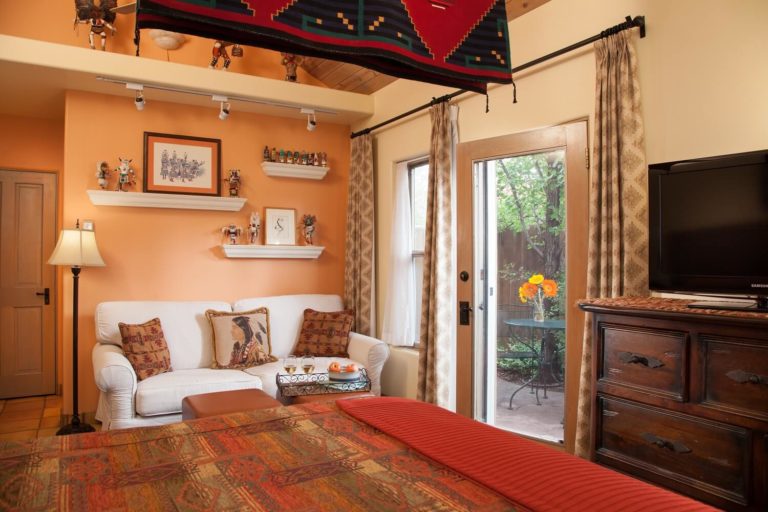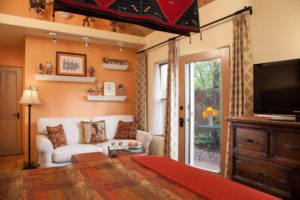 Whether you are visiting Santa Fe for a much-needed weekend getaway with the girls or are looking for a romantic stay, Four Kachinas is the perfect home base for your adventures. Centrally located in the city, you'll be close to Santa Fe wineries, restaurants, cultural activities, and more! Browse through our cozy accommodations to start planning your stay. From adobe walls to kiva fireplaces, each room is uniquely decorated with Southwestern furnishings so you will get a true taste of our area. Plus, each guest is treated to a delicious Santa Fe-style breakfast each morning! We look forward to seeing you!