Santa Fe, New Mexico's rich culture reveals itself most magically during hot summer nights. From its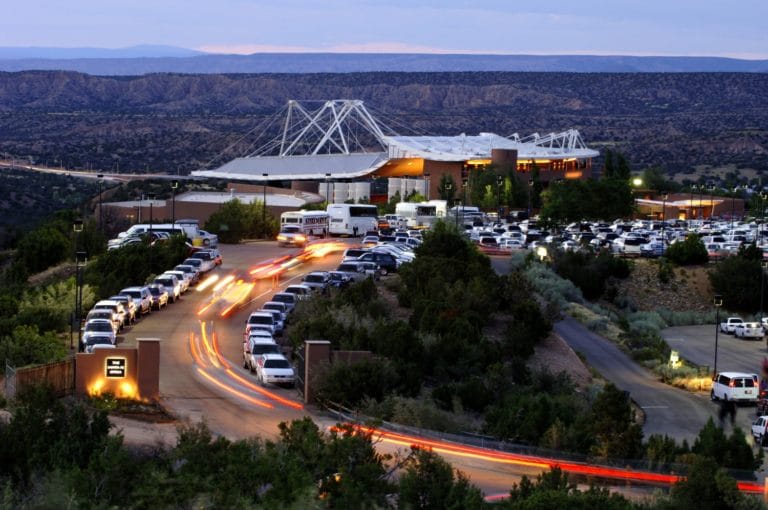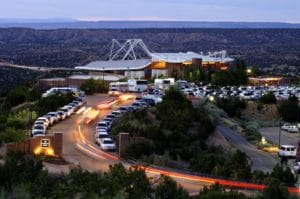 Pueblo- style architecture to its vibrant restaurant scene, the New Mexico capital transports visitors to another world. To truly experience summer here, a visit to the Santa Fe Opera House is a must. Just 15 minutes from Four Kachinas, the Santa Fe Opera schedule begins in June and ends in August. Enjoy a romantic night under the sky with beautiful music, gripping drama, and a stunning sunset view!
Are you planning on attending a show at the Santa Fe Opera House? Let us help you plan the rest of your time in our city! Our complimentary Vacation Guide has everything you need to know about things to do and see in our area. This free guide has saved countless travelers from hours of research, so get your copy today!
How to Enjoy a Show at the Santa Fe Opera House
Step 1: Purchase Tickets
Santa Fe Opera House tickets are available on their website and let you choose from the seating chart during the process. No matter what seat you pick, the drama of the show is sure to capture you. There are usually 5 shows to choose from every opera season, each offering something different. Browse the options, buy your tickets, then start planning your stay at Four Kachinas!
Step 2: A Classy Tailgate
We can assure you that you have never seen a sight like the tailgate before the Santa Fe Opera. Opera-goers park their cars and set up the most tasteful picnic you will ever participate in. Many attendees arrive hours before the event to set up beautiful displays complete with tablecloths, candelabras, fine wine, and gourmet meals. You are invited to bring your own picnic or opt to reserve one of the catered Tailgate Boxes the box office provides. Choices range from a delectable chilled wild salmon to thinly sliced rib eye steak!
You can also choose to attend a Preview Dinner. During the opera season, you can kick off the show by enjoying an expertly prepared meal in the open-air cantina. This opera-themed dinner includes multiple courses, wine, and ends with a brief introduction to the evening's show. Satisfy your hunger, sip some wine from one of the several venue bars, and get ready to enjoy a show!
Step 3: Enjoy the Show
The venue atmosphere the Santa Fe Opera House creates is completely unique. The first "show" you are likely to see is the night sky. During Santa Fe's summer season, it's common for the sky to light up with sunsets, rainbows, and distant lightning storms. The combination of the Crosby Theatre's open concept and prime location provide breathtaking views of the Sangre de Cristo and Jemez Mountains. Then, you get to sit back and enjoy the amazing performance.
Step 4: Return to Four Kachinas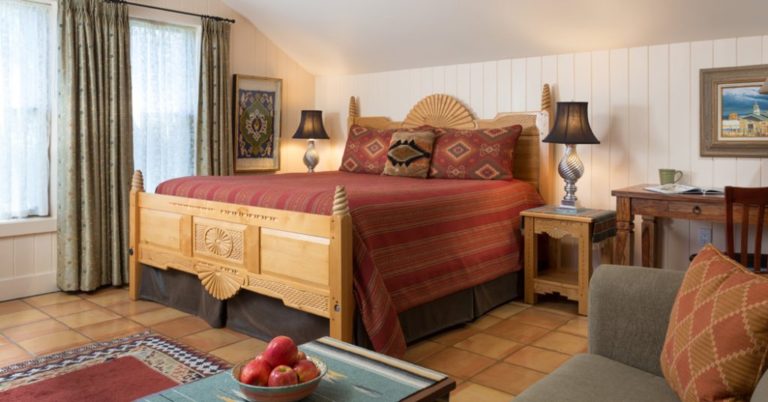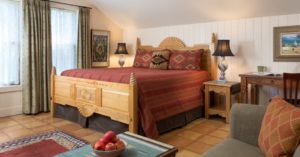 After the amazing show at the Santa Fe Opera House, come back and relax at Four Kachinas. Reminisce about the amazing performance as you enjoy a glass of wine on your private patio or in your cozy room. Browse through our accommodations to start planning your trip! We look forward to seeing you this opera season.
Four Kachinas has graciously been provided photography by The Santa Fe Opera. Photos were taken by Bob Godwin.