The city of Santa Fe, New Mexico, has an incredible allure. The historic streets surrounded by tall, adobe buildings beckon you to explore the city. There's so much to do here that you won't even want to stop and rest at night! Instead, experience some nightlife. You can even indulge in a little Santa Fe karaoke!
Planning your Santa Fe getaway? Now that you know you're going to partake in some Santa Fe karaoke during your trip, it's time to plan the rest of your vacation. Our area is filled with countless other wonderful attractions. For a complete list of handpicked, local recommendations, take a look at our complimentary Vacation Guide. This valuable resource has helped so many travelers plan unforgettable trips to Santa Fe, so get a copy today!
3 of the Best Places for Santa Fe Karaoke
1. Showcase Karaoke at Tiny's Restaurant
Every Saturday night, Tiny's Restaurant turns into a Santa Fe Karaoke bar. Showcase Karaoke uses Sound Choice Karaoke, and are the only certified and licensed venue in the city to use it! If you are wondering what songs are available to sing, you can check the list on their website. They have both English and Spanish songs available. If you don't see your favorite jam on the list, all you have to do is fill out the song request form.
2. Cowgirl
Cowgirl is known not only for their barbecue but also for their entertainment. Each night is filled with live music or Santa Fe karaoke. You will always be amused! To see what is going on the night you're thinking of visiting, just check their events page. You can grab dinner here, then wait until after dark for the karaoke to start up.
3. The Palace Restaurant and Saloon
The Palace Restaurant and Saloon is unlike anywhere you have ever been before. It is a true saloon; the welcoming decor is the perfect combination of Victorian and Spanish Colonial style. The red velvet wallpaper, elegant chandeliers, and historic photographs will bring you back in time. Plus, they are a great Santa Fe karaoke bar! Every Thursday, they offer Limelight Karaoke. On other nights of the week, there will be a mixture of karaoke, DJs, and other entertainment. Check out their calendar to see!
Where to Stay in Santa Fe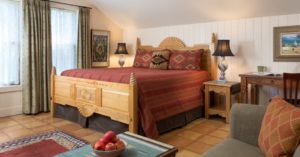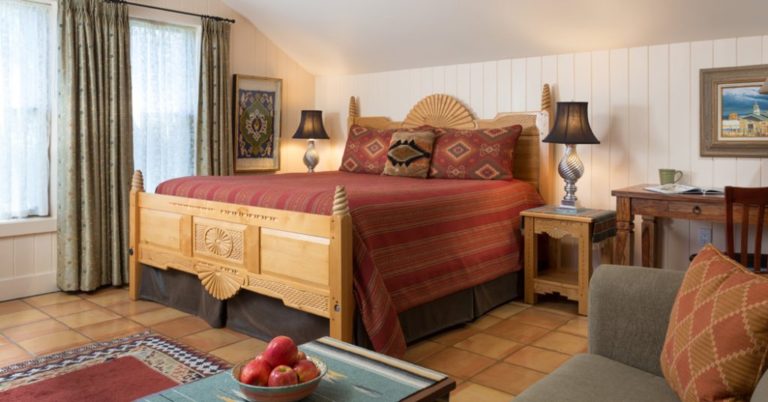 During your trip to Santa Fe, you deserve to stay in the best accommodations possible. Four Kachinas will be your home away from home during your time in the city! Our cozy bed and breakfast is located in the heart of downtown, so you'll be close to tons of attractions like Santa Fe karaoke. However, it is set back far enough from the hustle and bustle to still be a peaceful retreat. Browse through our charming accommodations to start planning your stay. Each features gorgeous Santa Fe decor. You'll love the luxurious amenities we offer including a delicious breakfast each morning to start your day off right! Book your stay today!